What's the Difference?
Life is a grand human experiment, filled with a wide swath of emotions and experiences. We live. We love. We build families and nurture them. We have great ideas and launch businesses and companies. We socialize with friends. We vacation and see the world! It's a wonderful journey. But as we grow older, there's no denying that our bodies begin to feel the time that has passed, and it's at this time that it may make sense to reach out for a little help to make life easier. That's where assisted living comes in. So, whether you're seeking a little extra support for yourself, or you're helping your mom or dad make the transition to assisted living in the Sugar Land area, it's important to know what assisted living offers, and how it differs from a nursing home. And of course, it's also crucial to know what you get for your money, because in these inflationary times, every dollar counts! Let's take a closer look at some of the differences of assisted living vs nursing home.
Is Retiring at Home Your Best Solution?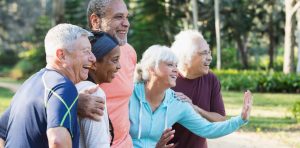 A person always has options, and that's a great thing, but there are so many variables to consider that it can seem overwhelming at times, especially when it's time to consider senior living options. There's the option to continue to live at home and have a nurse or care provider check in weekly, or daily, for help with household duties or prescription management, etc., but economically speaking, this can be a costly option.
It may seem ideal to continue to reside in one's own home; it's that familiar feeling. But the costs of retiring in place can sometimes be difficult to maintain. When you add it all up, and look at the pros and cons, there's likely many more reasons to move to an assisted living community than there are for retiring in place in at home.
Differences Between a Nursing Home and the Assisted Living Community Experience
Whether you choose assisted living or a nursing home (often referred to as a skilled nursing facility) for yourself or a family member, it'll depend on an individual's personal needs. There is some overlap between the two living options, but the differences are stark.
Nursing Homes
Nursing homes are typically a necessary choice in some situations, typically when the level of support needed is extensive. A nursing home, or skilled nursing facility, is essentially the most care someone can get outside of a hospital setting. These skilled nursing facilities deliver a high level of clinical care. Licensed physicians supervise each resident's care and monitor their overall health and medical conditions. Physical therapists, speech therapists, and other specialized healthcare providers are often in residence or check in daily or weekly to monitor progress and work with residents to improve their quality of life, however they are not included in monthly cost when paying privately, and are covered under insurance
Choosing a skilled nursing facility is a great short-term option for those who may be recovering from a recent major surgery and need daily monitoring by healthcare professionals and those short-term stays are usually covered by insurance. These facilities can also be a long-term choice for individuals who have complex and/or serious medical conditions or for individuals who may be bedridden.
Assisted Living Communities
Assisted living is a much more relaxed environment than a skilled nursing facility (nursing home). The level of professionalism is the same, but assisted living is a better choice for seniors who don't require serious medical supervision 24-hours a day. In our senior years, we will all likely have some medical issues, but most seniors can manage them by eating healthy, exercising, and of course making regular visits to their primary care physician for preventive medical and condition care.
In an assisted living community, such as ours at The Hampton at Meadow's Place, residents' independence is a priority. Unlike nursing homes, where the presence of healthcare personnel is ominous at times, assisted living offers seniors the help and support they need when and if they need it. We know that residents are keen on preserving independence and living their lives as they choose, on their terms and their schedule. It's a priority for residents, so it's a top priority for our team members.
In a quality assisted living community, team members will focus on encouraging health and wellness through diet, exercise and social interactions. It's a non-clinical environment that can provide some medical care when needed, but it's not the near hospital like setting that many nursing homes have. Assisted living provides high-end apartment living in a social community that allows residents to thrive, to engage in specialized programs of art and music, to connect with other residents, to enjoy anytime-dining in a restaurant atmosphere, and to get that extra help with dressing or housekeeping that can make life so much easier.
Assisted Living vs Nursing Homes: Cost Comparison
The costs vary from community to community, from facility to facility. Assisted living costs will vary depending on the services that are provided by skilled team members. Costs are also impacted by the general amenities provided, as well as, of course, location. Assisted living communities typically require a monthly fee that will cover not only an apartment and utilities, but also meals, transportation, general services, and activity programs.
Nursing homes are, in almost all cases, more expensive due to the nature of their existence. As mentioned above, nursing homes often have hospital-grade equipment that is costly to maintain, making them twice the cost, if not more.
Care and Assistance at The Hampton at Meadows Place: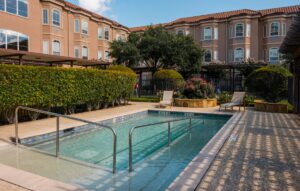 At The Hampton at Meadows Place, we base everything we do, everything we provide, on our core wellness philosophy that is concentrated on the four dimensions of wellness: physical, social, intellectual, and spiritual. Our innovative engagement programs can strengthen cognitive ability and decrease the risks for disease.
We believe that quality care comes through understanding, so before and during move-in, our team members meet incoming residents, socialize, and gather important information and data from in a comprehensive 'wellness review.' Learning about and fully understanding a resident's needs and abilities, as well as their passions, is critical and allows our team members to then provide the best care possible. It's our goal to give residents the independent living they desire and the daily care or support they may need or want, all within a safe, secure community. The Hampton at Meadows Place is the place where high-end apartment living meets supportive care, and results in thriving joy-filled lives for residents who choose assisted living in the Sugar Land area.
Genworth's Cost of Care Survey reported the 2021 monthly median cost for an assisted living facility (monthly rate for a private one-bedroom) in Texas to be $3,998. There's a lot of benefits, services, care, and of course an apartment included in monthly pricing, but regardless, assisted living is an investment, but it's an investment in quality of life and safety, and that's perhaps the most important investment of all.
Our assisted living fee starts at $3400 and there are five comprehensive wellness packages to choose from that will be designed to fit the unique needs of incoming residents. Learn more about our pricing and wellness packages.
To learn more about all that we offer and read about our innovative engagement programs that can strengthen cognitive ability and decrease risks for disease, download our free assisted living brochure, or schedule a tour to get to know us personally and see all that we provide at The Hampton at Meadows Place.
Fill out a form online or call us today at (281) 240-1707 to learn about how we can help start the assisted living journey near Sugar Land, Texas.